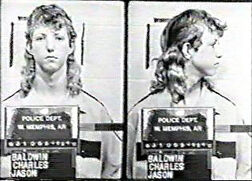 Jason Baldwin (born April 11, 1977) is one of the three members of what has been referred to as the West Memphis 3 (Jason Baldwin,
Damien Echols
, and Jessie Misskelley, Jr.). The three were accused and convicted of the triple homicide of
Christopher Byers
,
Michael Moore
, and 
Stevie Branch
in West Memphis, Arkansas in 1994.
Jason was arrested on June 3, 1993. Jason and Damien Echols were tried together, following the trial and conviction of Jessie Misskelley. Misskelley had previously confessed to observing and participating in the brutal crimes against the children, implicating Baldwin and Echols. The jury convicted both defendants of murder. Baldwin received a life sentence without the possibility of parole.
After the Arkansas Supreme Court denied his direct appeal in 1996, Baldwin filed a Petition for Relief under Rule 37 the following year. (Rule 37 deals with ineffective assistance of the original trial counsel.) Because the original Petition was filed in a timely manner, it is an avenue of appeal that is still available to be pursued, as shown in a Joint Status Memorandum filed on June 2, 2004.
Community content is available under
CC-BY-SA
unless otherwise noted.