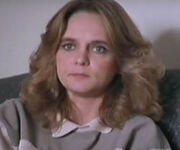 Pamela "Pam" Hicks Hobbs is the mother of
Stevie Branch
, one of the boys murdered in West Memphis, Arkansas in May of 1993. In 1993, Pam was married to
Terry Hobbs
. She had one child, Stevie, while married to
Steve Branch, Sr
. During her marriage to Terry Hobbs, Pam had a second child named Amanda.

On May 10th, 1993, Pam was questioned by the police. The report stated that Pam looked for her son at 10am on the 6th behind the Blue Beacon truck wash. She did not stay long because she had a bad feeling about the area. The officer noted that Terry Hobbs was not home at the time Pam was talked to by police.[1]

Pam gave another statement to the police on June 9, 1993. She told police that Jason Baldwin mother and father came by her house on 1601 S. McAuley the day after the murders.[2]
At Jessie Misskelley's trial Pam testified that she went to work at 4:50pm on May 5th and left work at 9:25pm. On the day of the murders Pam and her 4 year old daughter met Stevie at Weaver Elementary. The three walked home and then Stevie left to ride his new bike with Michael Moore. Pam testified that the police response to her son's disappearance on May 5th was slow. At the trial she stated she did not know Stevie was missing until her husband came to pick her up from work. It was at that time he called police.[3]
Pam also testified at the joint trial for Damien Echols and Jason Baldwin. She repeated the information she gave at the previous trial.[4]
Pam had brief contact with Chris Byers on May 5th when he came over to the house looking for Stevie and Michael at 3:40pm.[5]
Community content is available under
CC-BY-SA
unless otherwise noted.