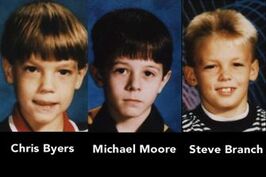 New pages
Welcome to the West Memphis Child Murders at Robin Hood Hills Wiki
The West Memphis 3 murders Wiki is an encyclopedia about everything and everyone relating to the Robin Hood Hills child murders of West Memphis, Arkansas in 1993. On May 5th, 1993, three boys disappeared into the woods: Stevie Branch, Michael Moore, and Chris Byers. In 1994, three men were convicted of their murders: Damien Echols, Jessie Misskelley, and Jason Baldwin. The intent of this site is not to prove or disprove the men, known as the West Memphis Three, are guilty. Instead, we wish to provide a factual representation of all information pertaining to this case so that you may decide what really happened to the three boys.
The wiki format allows anyone to create or edit any article, so we can all work together to create a comprehensive database for everything case related.
News
Site Map created to aid in navigation of the site.
Wiki Mission Objective
This WM3 Wiki if for documented information only. Speculation and personal opinions will be deleted. With that in mind, all contributors are welcome. Thank You.
Community content is available under
CC-BY-SA
unless otherwise noted.